We provide a full range of gaming cabinet designs for new and old clients alike. Every skill game comes with a Pyramid printer, either a Mars or ICT Bill acceptor, Monitor. All custom wired for your preference. Our cabinet choices range from a 15 inch monitor counter-top to our brand new 43 inch vertical screen stand up. Give us a call today about your choices at 412-921-9800.
The options on the boards and cabinets are extensive at JMR Sales and Service. We will provide you with the expertice to guide you to make the right choice for your skill gaming needs. We provide Banilla gaming boards, IGS gaming boards, and Aurora gaming boards. All custom built with either a 19 inch, 22 inch, 23 inch duel, 32 inch, or our new 43 inch vertical screen!
Skill Game Disclaimer
These devices are lawful skill games pursuant to Pennsylvania case law and have been designed to comply with Pennsylvania Consolidated Statute 18 Pa. C.S.A. 5513(a)(1). The outcome of these games are predominantly determined by skill rather than chance and therefore are not "gambling devices" per se. We can in most cases, meet regulations and legalities for your state. We suggest you the buyer check with your local authorities
Put your trust in J.M.R Sales and Service for all your skill gaming needs.
Contact our office in PITTSBURGH at 412-921-9800 to hear about our options and differences in the boards.
Banilla Fusion 1-4
Aurora 1-3
IGS Golden Master
IGS High Roller Club
Banilla Platinum Duel 1-3
Favorite Skill Duel Screen
Aurora Phoenix
Production All of our gaming cabinets are fully wired and ready to operate. We have Plug and Play games only.
Stand-up Cabinets
Our most popular is the 32 inch vertical screen stand-up wooden cabinet. These cabinets ALL come fully wired and complete for Plug and Play.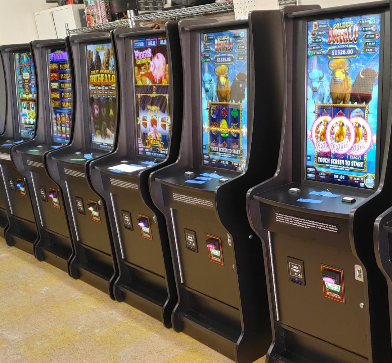 32 Inch Vertical
Durable Wooden Cabinet
Comes with Bill Acceptor and Printer
Plug and Play.... It's that easy!
22 Inch Horizontal
Durable Wooden Cabinet
Plug and Play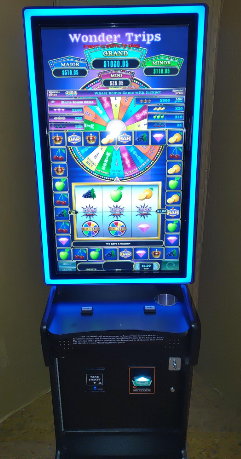 New!!! 43 Inch Vertical Screen Monitor Gaming Cabinet!!!!
43 Inch Vertical
Custom Built and Durable Wooden Cabinet
HUGE 43 Inch Vertical Screen
Plug and Play Ready With Bill Acceptor and Printer
METAL CABINETS
We now offer metal cabinets for a more secure gaming experience. Multiple lights and a heavy design make these metal cabinets our most attractive model. We offer multiple designs and monitor sizes along with Plug and Play as always.